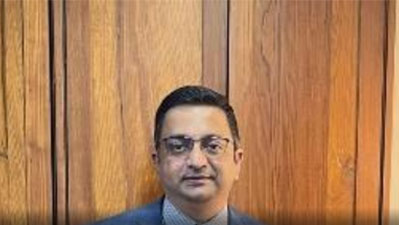 Fostering a collaborative and productive work environment is important for keeping the teams motivated, interested and invested in their work, take ownership of the work and contribute positively to the firm- Akshat Pande, Partner and Head-Corporate Practice at Fox & Mandal Solicitors and Advocates
Can you share with us your journey and how you ended up pursuing a career in law? What inspired you to choose this path?
After completing School, I chose to appear for CS and CA foundation exams. Since CS foundation results are released before CA foundation results, I qualified and got through CS, although I had appeared for CA foundation also and passed both of them. While studying for CS exams, I got keenly interested in law as a subject. My curiosity for law increased and I would often find myself dedicating hours to reading law books and cases. I found it extremely interesting and intellectually fulfilling and fell in love with law. After completion of CS, I enrolled myself for LLB with Delhi University. I am a first-generation lawyer in my family and I thank my stars to have landed in a profession that I like. 
With over 18 years of experience in corporate and commercial law, you must have encountered various challenges and rewarding moments. Can you share one of your most memorable cases or experiences in your legal career so far?
Quoting a single example from work is difficult as there have been many instances which were challenging in the beginning and rewarding when I got done with them. One of the most profoundly rewarding experiences in my career was setting up Alpha Partners in 2012. As a first-generation lawyer, my passion for creating something extraordinary from scratch fuelled my drive. However, it also presented an immense challenge—bootstrapping a startup law firm. From its inception until our merger with Fox & Mandal, I continuously grappled with the hurdle of elevating the firm to the next level, hiring talent, and enhancing practice verticals in the firm with new partners. For first-generation lawyers like me, to scale law firms to the next level without any avenues to raise finances to fund talent acquisition has been the biggest challenge. 
As the Partner and Head of the Corporate Practice at Fox & Mandal, Delhi, you lead a team of more than 10 lawyers. What strategies do you employ to foster a collaborative and productive work environment within your team?
Fostering a collaborative and productive work environment is important for keeping the teams motivated, interested and invested in their work, take ownership of the work and contribute positively to the firm. Few basic tenets like effective communication, clear goals, trust and collaboration, rewarding and recognising good work, encouraging learning and performance evaluation are most important and should be kept in mind by any team leader. 
In order to instill the above in young associates, I follow Dr. House's methods. Every assignment or transaction is discussed threadbare with the full team working on it in a 1-2 hour session so that no aspect is left out to be discussed. Such sessions are not a monologue by me but everyone is supposed to give their inputs and ask questions. Sometimes, these sessions happen in two sittings if something has to be researched and then discussed. At the end of the session, each member of the team is given a particular aspect of the assignment to complete but the team is supposed to coordinate amongst themselves and not work in silos, such as drafting is done by someone, research by others, compliances by third etc. Each one is also given a deadline also. The Senior Associate involved in the assignment is supposed to supervise and check on the work so that it is done in a timely manner. Once this delegation is over, I step aside and let the team work on the assignment. Thereafter before the deadline, an update meeting is done and questions if any are answered. Final review of the deliverables is done in a joint meeting of the team.  
I am of the firm view that delegation is extremely important to make a strong team of good corporate lawyers. If the lawyers are not given room, they will never grow professionally and that will affect the overall efficiency and performance of the firm. It also enables them to work as a team and collaborate with each other rather than against each other. I also make sure that in every assignment, the roles of the team members are reversed so that no monotony sets in and each lawyer is getting trained in each aspect.            
Your areas of expertise include private equity, venture capital, M&A, joint ventures, and more. Could you highlight a particularly complex or intricate deal you've been involved in and explain how you navigated its challenges?
There are many such instances where deals were particularly complicated and required structuring to achieve efficiency and commercial feasibility. Typically exits become complicated, especially when it is a strategic buyout of the company through which exit is being given to investors. A lot of interests need to be balanced. Once such deal involved around 20 institutional and individual investors who were getting shares in the acquirer's entity and the investors were sitting in an externalised holdco structure. In other M&A transactions, exits or JVs that I have handled, more than legal issues, it is the balancing of the interests of various stakeholders which requires delicate handling. Also, in case of cross border joint ventures, it is extremely important to understand cultural differences and business practices of the partners who are coming together to form the joint venture as most issues arise because things are handled differently by people from different countries and neither one is incorrect.   
You have extensive experience in assisting multinational companies doing business in India and the UAE/MENA region. What are some unique legal considerations or cultural aspects that companies need to be mindful of when operating in these diverse jurisdictions?
UAE is an extremely interesting jurisdiction. I have been working closely with UAE firms and clients and the experience has been extremely enriching. UAE is not very different from India culturally because of the historic cultural and business ties as well as the fact that both the jurisdictions have been influenced by the British common law system. UAE has modernised itself in its systems, processes and government dealings and there is a huge emphasis on use of technology in every aspect of governance and in general life. UAE is welcoming investors both at entity and individual level and has all necessary elements of a modern and business friendly country with congenial living standards. 
In your experience, what are the key factors that contribute to a successful commercial transaction or project? How do you ensure that all parties involved are aligned and satisfied with the outcomes?
As a lawyer, it is my job to protect my client's interest to the best possible extent and so are the counsels of the other side. I believe that if all parties involved are adequately represented by lawyers, the alignment and balancing is more or less achieved. It is imperative for all types of clients to be adequately represented in this present day and age when contracts and compliances are getting more complicated and intricate. Corporate lawyers are not merely "punctuation correctors" but play an extremely important and strategic role in transactions and ensuring that clients are legally compliant, which collectively contributes to better corporate discipline, governance and makes our government's job easier to govern.   
With a background in advising clients across various sectors, such as healthcare, hospitality, e-commerce, and technology, how do you stay up-to-date with the latest industry trends and legal developments that may impact your clients?
Read, read and read more. There is no replacement for reading for lawyers and there is no other secret sauce. If in today's time and age someone says that "I didn't know" about something, that means she/he has not made an effort to read about it because information is freely available everywhere and you cannot have an excuse that something was not out there. 
Other than reading, one should also be connected with relevant stakeholders, in-house lawyers, chartered accountants, CS's and more importantly lawyers from other law firms and keep exchanging ideas, information and must have discussions on legal issues. In fact, I believe that corporate lawyers should make legal discussions part of their social lives so that nothing is missed out. Information monopolies have been broken down by the internet and now is the era of sharing more and more information rather than keeping it with oneself. 
Throughout your career, you've been involved in assisting government organizations with real estate and infrastructure projects. What are some of the challenges and rewards that come with working on projects of such scale and importance?
Working on government projects presents unique challenges and rewards. While the commercial compensation for lawyers may sometimes be limited and/or delayed, the experience is truly exhilarating.
Typically the real estate and infrastructure projects that we have undertaken are large scale projects involving multiple legal, commercial and strategic issues. The tussle between remaining fair and just which is a requirement for government instrumentalities and at the same time ensure that the projects are commercially successful for them is something which needs intricate balancing. Also, the commercial expectations of the government from a particular project needs to be balanced against market realities.   
As a prominent figure in the legal industry, you were recognized in the Forbes Legal Powerlist as one of the top 100 individual lawyers in 2022. What does this recognition mean to you, and how do you continue to strive for excellence in your profession?
Any recognition is a validation for one's hard work and receiving such accolades is humbling. At the same time, I guess every day is a new day of learning and one should endeavour that each day is better than the previous one. 
Considering your diverse background in law and business, what advice would you give to fresh law graduates who are just starting their legal careers? What skills or qualities do you believe are essential for success in today's legal landscape?
I have few tips which may be relevant for fresh graduates:
It's not a job, it's a profession. So treat it likewise and train yourself for that;
Read, read and read. If reading makes you tired, you are in the wrong place;
Have a problem solving attitude. Not creating, not fixing, but solving a problem is what is required.
Go for post-graduation only when you have identified a particular area or areas of law in which you are confident you can work for long term;
Do not depend on anyone else's version of research, not articles, blogs, not even chatGPT. Find your own answers to a problem and don't stop till you do or understand it entirely. Read, discuss, read, repeat. 
Be very clear about how much money you want from your employer/firm. There is no market standard and your peers or consultants don't decide what you get, you do. Remember, working for less is more important than asking more and not working. 
Become a generalist but grab one area of expertise or industry or niche practice area and try becoming best in that. Prioritise this over money or any other alternate career options.
Don't take it too seriously if things don't work out. Its OK not to be the best.   
Finally, looking back on your journey and achievements, is there any specific piece of advice or life lesson that has had a profound impact on you, personally or professionally, that you'd like to share with our audience?
Someone once told me "Be sincere, not serious' '. I guess that was the most useful advice I got which I have used in my life.