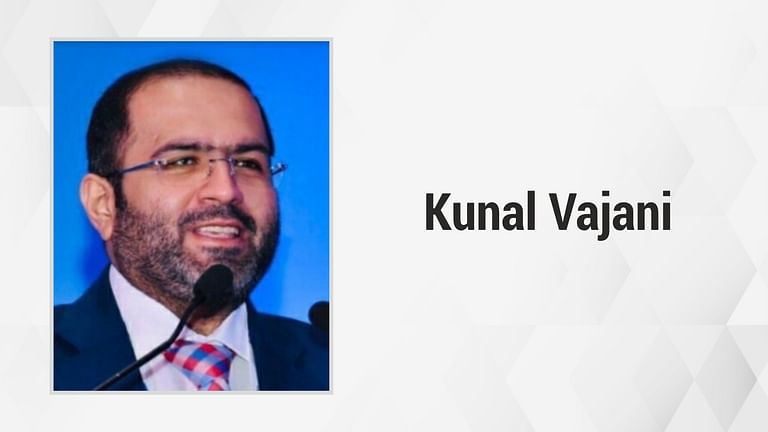 Fox & Mandal | Press Release – Induction of a Joint Managing Partner
For Immediate Release
KUNAL VAJANI TAKES ON THE ROLE OF JOINT MANAGING PARTNER AT FOX & MANDAL; BECOMES FIRST YOUNGEST AND LATERAL MANAGING PARTNER IN ANY CENTURY OLD ICONIC LAW FIRM
Kunal Vajani, who was till now heading the New Delhi office of the firm Fox & Mandal as an Of Counsel, is set to take the role of the Joint Managing Partner at Fox & Mandal. In May 2022, Fox & Mandal had integrated its practice of 125 years with BlackRobe Chambers, headed by Kunal Vajani, as part of its expansion in New Delhi.
Kunal is a 2003 graduate of the Government Law College, Mumbai. He earned his LL.M. from the Harvard Law School in 2005. Kunal also holds the distinction of being the Court Member (India), ICC International Court of Arbitration, Paris as well as a registered practitioner having Rights of Audience before the DIFC Courts, Dubai.
In his new role, Kunal will be jointly working with Debanjan Mandal, Managing Partner of the firm, to lead the firm's operations where the firm plans to expand its footprints. This is perhaps the first time in the history of law firms that a 100+ year old firm is appointing a Joint Managing Partner who is young but seasoned, and definitely, a landmark move as Kunal becomes the first lateral Managing Partner of in 125 years of the firm's legacy.
Welcoming Kunal in his new role, Debanjan Mandal, Managing Partner, says, "Kunal has had an illustrious professional journey and his credentials in terms of the exemplary work he has done is commendable. What really prompted the decision to have him join the firm as Joint Managing Partner is his sense of purpose despite being so accomplished. I have witnessed him inspire others to believe in something greater than themselves and to work towards a common goal that is meaningful and impactful. Kunal has helped the Delhi team as well as some of our colleagues at Kolkata to see beyond the day-to-day grind, and to understand the importance of their work in the larger context of the organization, the industry, and the world. I couldn't have found anyone better than him who is so committed to bettering the lives of all those around him."
He further added, "At Fox & Mandal, we recognize the critical role that strong leadership plays in achieving our vision and goals. I look forward to jointly working with Kunal to ensure that our leadership team not only becomes stronger but also paves the way for others to come and work with us."
Kunal Vajani, Joint Managing Partner, echoed Debanjan's sentiments and says "While I have worked with the firm in various capacities over the years, it is through my long-standing association with Debanjan Bhai that I have personally witnessed his unwavering commitment to build legacies. To be a leader is not just a job, but a calling, and I know that he is someone who is not satisfied with simply achieving personal success. He has constantly sought to elevate those around him to new heights of achievement and fulfilment. I am excited to work with him and create a culture of excellence, learning, and purpose."
About Fox & Mandal
Fox & Mandal (F&M) counts amongst the largest law firms in the whole of Eastern India. It started in Calcutta (the then capital of India) in 1896 in partnership with John Kerr Fox, an English lawyer and Gokul Chandra Mandal, of India. It is probably the only instance of an Indo-British joint venture in the legal profession to have been in continued existence for more than 125 years.
Currently in its 127th year F&M is focused on delivery quality and value to clients through its unparallel legal expertise & experience, industry specialisation and commercial acumen. Over the last century Fox & Mandal has built itself a legacy of lawyers comprising of the global achievers, who have redefined horizons and scaled great heights with their legal services.
The Indian Postal Department recently released a Special Day Cover and Postal Stamp to commemorate 125 years of existence of Fox & Mandal, an acknowledgement unique in the country's legal history, possibly being India's only law firm to have a Special Day Cover and Postal Stamp released by India Post.
F&M is headquartered in Kolkata with a full service branch at New Delhi and with plans to expand its footprints at Mumbai and in the UAE soon. At present, there is a total strength of 19 partners and 65 lawyers across three offices (two in Kolkata and one in New Delhi).
For more information contact:
Sinjini Saha
Head – Practice Development & Communications
E.: sinjini.saha@fox@mandal.co.in | M.: +91 83688 97297